In January 2012, I was 3 stone (if not more) overweight, unfit & – knowing I needed motivation to get off my large bottom – I decided I needed a challenge & this challenge was going to be the Great North Run.
I filled in the ballot application & sent it off with my fingers crossed. At this point, I hadn't actually tried any running & turns out I had massively underestimated my fitness levels! I used to be very fit & played a variety of sports, so on the first day I decided to 'go for it' I was expecting to be able to run slightly more than 30 seconds without feeling like I was close to death!
I came home & – whilst recovering – realised that perhaps I needed to re-think my plan! I downloaded an app called the 'Couch to 5k' & it was a great help. The idea is that you run a little, walk a little, run a little, walk a little etc. Eventually, you run a bit more & walk a bit less & as it's all set to music, by the time you've realised how hard you've worked, it's time to finish!
It took around a month to get up to 5k, at which time a friend mentioned that he ran in the Parkrun race every weekend. Parkruns are free, timed events that run throughout the country & the organisers & fellow runners are really friendly & welcoming. In my first race, I came last (being beaten by a 70 year old lady, which was a low point). Still, it gave me a starting point & I could work on getting quicker from there.
It was about this time that I got the email to say I hadn't been accepted into the Great North Run & I surprised myself with how disappointed I was – I had a long way to go both in distance & fitness terms, but I had started to enjoy running & knew that I wanted to go for the Great North Run as my goal. As soon as I'd set my mind on entering, there was only one charity I wanted to represent. My grandma had MS & I had seen how it had impacted her life, so wanted to help to fund the research into what is still a little understood disease. I had to raise £300 to race for them & hoped that I could reach it. Initially, I think people sponsored me out of disbelief (they probably thought they were guaranteed to get their money back when I didn't do the race!).
After building up my confidence & wearing down my time a little, I entered my first 10k race in June. After taking advice from a few friends who were proper runners, I decided that my training regime would be to try one quicker run & one longer run in a week to get me fitter, quicker & running further.
The 10k was bloody hard work! I found it quite difficult to pace myself & ended up running a lot of the way with another runner, who was wearing a watch to track her speed. With about 2k to go, she started to flag & I was left with the quandary of staying with her – as we'd chatted at the start & agreed to stick together as we were both beginners – or going off, as I still felt fine. Luckily, this is just one example of how friendly & encouraging the running community is & she urged me to go on ahead. I found that I actually had some more energy in my tank & managed to overtake a few people on the way to the finish line, which felt like a massive achievement!
Over the next couple of months, I stuck with the theory of one quicker run & one longer run, but also downloaded an training plan from the Asics website, which was really useful as it is specific to the individual & their goal, so told me exactly what to do.
I actually found I looked forward to going out of an evening. I found running a really good stress reliever after a bad day, or on a good day, I had more energy & enthusiasm. It became my 'me time'; I'd put on my music (see my blog on my running top 10) & had a few minutes of not thinking about work, nursery, shopping lists or anything other than putting one foot in front of the other. Every now & then, I'd get into what runners called 'the zone', which was wonderful; my legs were going & I was breathing without really thinking about it – just going! By the end of August, I'd got up to about 10 miles & all was going well. I still wasn't very fast, but I could do it & that was the main thing.
When I first started & people were sponsoring me, I said I just wanted to finish (which seemed like an impossibility way back in January), then – as I improved – I set my target to under 3 hours. With a few weeks to go, I was hoping to complete it in under 2 hours 45 minutes – I had been running at around 12 minute miles & that time seemed attainable. One friend said that for every minute under that I finished, he'd sponsor me £5. He knows me very well & that was the extra push I needed. I just didn't want to walk, as I felt I'd really regret getting to the end if I did, after all of the hard work I'd put in.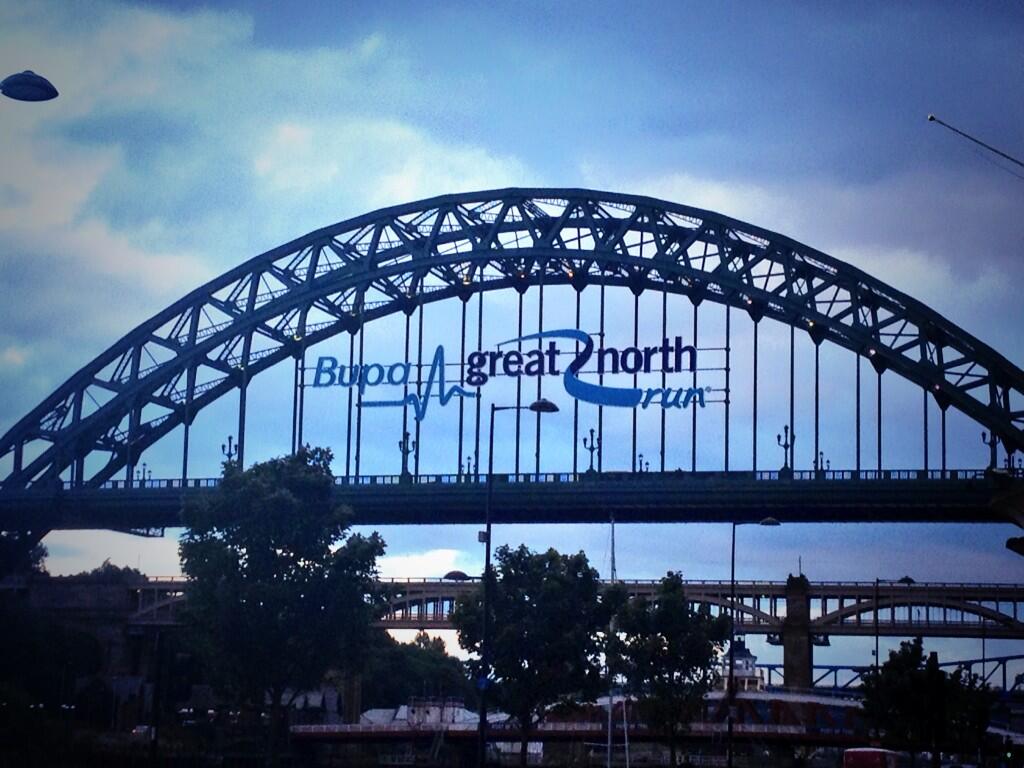 The weekend of the Great North Run arrived & we enjoyed a wonderful day at the Great City Games, watching many of the athletes, including Mo Farah, who had enjoyed being part of Team GB at the London Olympics just a few weeks earlier. It seemed so special to be taking part in this iconic event in such a significant year.
On the morning of the race, we made our way to the start & Mr T carried Little T in a backpack off to find a viewing point. It's tradition for the organisers to play 'Abide With Me' at the start of the race to remember why we were racing & those we were raising money for. It's fair to say that this was incredibly emotional & I stood taking in the scene with the tears streaming as I thought about my grandma & how far I'd come since thet dark, miserable January day.
I got chatting with a chap who was running to raise money for some hospices in the North East. He was aiming for around 2 hours 30 & said to stick with him. After the start gun went, it was still about an hour before I actually crossed the start line, due to the enormous number of runners. I even got a high-five from Greg Rutherford as I went through the start. I managed to run at 10 minute miles – faster than I had ever run in training – for the first 8 miles, before realising that I couldn't carry on at that pace.  I spotted Mr T, Little T & my best friend at about a mile in, but didn't see them again. At around mile 9, I did a double-take, as I got given a drink by Dame Tanni Grey-Thompson! Unfortunately, as I'd downed an energy drink before the start gun went, waited an hour & then had a couple of drinks en route, I needed a wee by about mile 10 – waiting in the queue for a portaloo in the middle of the Great North Run was a surreal experience, to say the least!
The atmosphere of the whole day was incredible, with people lining the streets along the whole route. I had my name on my orange MS Society vest & the lift when hearing someone shout you on by name is brilliant. The other racers were so supportive of each other – offering Jelly Babies to those who looked like they were flagging & offering words of support when needed. At around 11.5 miles, I was so close to walking, but knew I'd regret it & a lovely lady saw I needed a bit of a boost & suggested I run with her for a while, which was just what I needed. Once she'd got me back up to speed, she carried on at her pace, but she'd got me past the wall & I am eternally grateful to this stranger for her help.
I finished in a time of 2hours 40 minutes (including a wee stop!) & was over the moon! The last mile, with people cheering on every step is something that I will remember forever & the total I raised for the MS Society was an incredible £2896, as people were so generous. I was proud as punch of my achievement & on the way home, we visited the Angel of the North to show off my medal.
I have kept up the running, although I'm looking out for my next challenge, as I need the push to get me out of the door of an evening once the nights draw in. I often disappear off when I get in from work & I never thought when I started that I'd ever be nipping out for a quick 5 miles before tea. I still wouldn't say I'm a proper runner if anyone asked though!